Control Systems for Civil Engineering
Most European civil engineering structures were built between a few decades ago, with a planned lifetime of 40 or 50 years. Throughout their service, these structures are exposed to environmental conditions and infrequent solicitations, despite minimal maintenance for financial reasons. Today, this means many of them are in a condition of serious deterioration and require a monitoring of their structural integrity.
For years, public authorities operating civil engineering structures performed regular visual inspections on the most critical facilities, at a minimum. With the development of increasingly high-performing hardware and digitalisation, remote and continuous monitoring of these structures has become another viable option.
Thanks to a long-term partnership with Professor Vincent Denoël from the University of Liege, and several projects carried out for the Wallonia Region, V2i has developed specific and autonomous solutions for real-time remote monitoring of civil engineering structures. This ensures our solution to integrate the most advanced data-analysis techniques, while perfectly satisfying the requests of administrators and inspectors.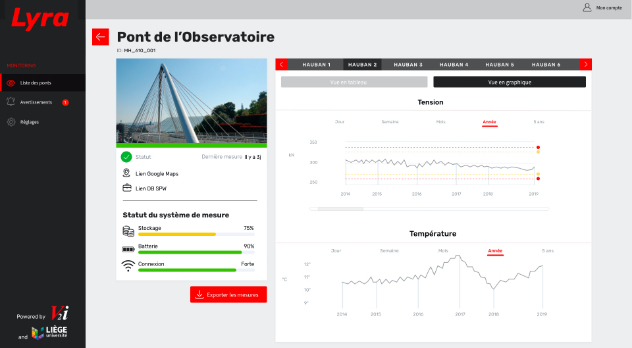 Discover some of our references here!


Pont de la Gare des Guillemins